Shridath Surendranath Ramphal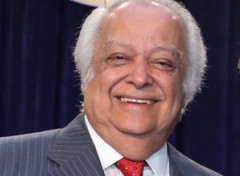 Shridath Surendranath Ramphal is a Guyanese barrister, politician, and international civil servant. He was the Secretary- General of the Commonwealth of Guyana. He is known to be a supporter and architect of regional integration in the Caribbean and helped to increase the role of the Caribbean in world affairs.
In 1947 he began his legal training at King's College, London, and was called to the bar from Gray's Inn in 1951. He then obtained a Master's degree in Law. He returned to British Guiana in 1953 and served as crown counsel in the Attorney General's Office. It was during this period that he became interested in constitutional law and started his enthusiastic support for the creation of a West Indian federation. In 1958 he joined the federal government of the West Indies as legal draftsman. The following year he was appointed solicitor-general, and in 1961 he became assistant attorney-general. However, the federation was short-lived, and after a referendum in Jamaica it broke up.
Ramphal then went to Harvard Law School for a year as a Guggenheim Fellow. He returned to Kingston, Jamaica, in 1962 and entered private practice. In 1965, while he was still in Kingston, he was invited by Forbes Burnham, the prime minister of British Guiana, to return home and become the country's attorney-general and to begin drafting Guyana's independence constitution. This was the beginning of his ten years in national politics.
In 1967, Ramphal was appointed minister of state for foreign affairs. In 1972 he became minister of foreign affairs, and a year later he took on the portfolio of justice minister as well. At the Commonwealth heads of government meeting in Kingston, Jamaica, in 1975, Ramphal was unanimously appointed the Commonwealth's second secretary-general, the first from the Third World. Ramphal has joined many leading international legal, political, economic, and humanitarian organizations and received honorary degrees from universities all over the world and awards from various national governments. He received a knighthood in 1970.