Inaugural Dr. Eric Williams Panel Discussion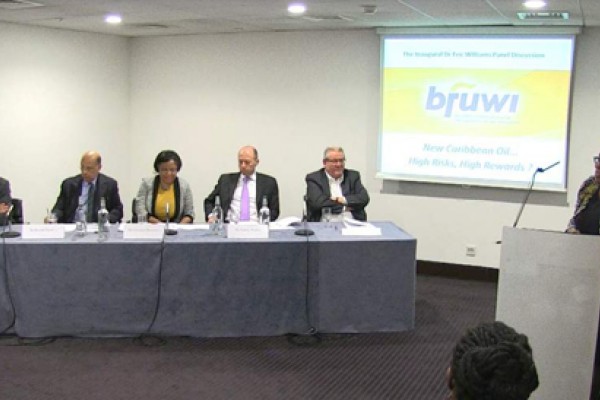 Held on May 22, 2013 at 6 p.m. at the Commonwealth Club, the theme was "New Caribbean Oil Exploration: High Risks, High Rewards?". From all the reports, attendees were pleased and impressed with the event and the BFUWI Trustees were commended by the speakers, notably David Jessop and Sir Ron Sanders, for hosting a debate on an important topic which is not being widely discussed in the Caribbean, although it ought to be. Approximately 70 persons were present and everyone enjoyed themselves and the overall opinion was that for the first venture of this kind was that "we set the bar very high" according to Trustees and organizers Susan Belgrave, Vanessa Hutchinson, Diane Edwards and Elizabeth Mullings Smith. The panellists were:
Dr. Veronica Broomes: is a consultant in sustainability and corporate social responsibility with over twenty years' experience in the Caribbean. She was a Research Associate with the Commonwealth Policy Studies Unit (CPSU), a think tank within the University of London's Institute of Commonwealth Studies.
Mr. David Jessop: is currently the Managing Director of the Caribbean Council. As such he advises and supports a number of major Caribbean industries, associations, governments and companies in Europe on investment, trade policy and political issues.
Sir Ronald Sanders KCMG AM: A native of Guyana and a naturalized citizen of Antigua and Barbuda, Sir Ronald has served at the highest level in his country's diplomatic service. In July 2010 he was appointed as a member of the Commonwealth Eminent Persons' Group reporting on the future of the organisation. He is currently a visiting Fellow at the Institute of Commonwealth Studies in London and is a widely respected commentator on economic, political and social policy in the Caribbean.
Mr. Halvor S. Snarvold Managing Director of Caribbean Exploration Limited of London, Halvor has 33 years' experience with major and independent oil companies, including Mobil, Texas Eastern and Enterprise Oil, and has a successful track record in finding oil and gas in frontier offshore environments.
Mr. Calvin Walker: Calvin Walker heads the Project Finance practice group in London at the international law firm, Baker and McKenzie. His primary focus is the financing of international energy and infrastructure projects, particularly in the Middle East, CIS and Russia. He acts for oil companies and other sponsors plus lenders, governments and other stakeholders on project financings and acquisitions in the power, oil and gas, LNG, mining and infrastructure sectors.