Caribbean STEM Coach Club 27 February 2016
BFUWI collaboration with CADSTI and Future Think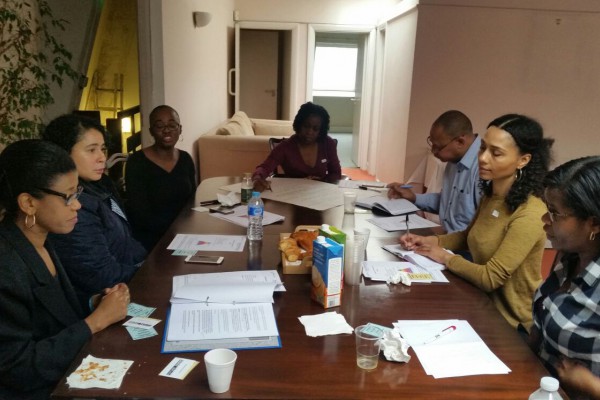 Three Caribbean educational charities are proving that joint working can reap dividends.  On Saturday 27 March, Caribbean Diaspora for Science Technology and Innovation (CADSTI), the British Foundation for the University of the West Indies (BFUWI), and Future Think launched a pilot programme for students preparing for GCSE exams in June.  The session was held at the Barbados High Commission.  All three organisations had been considering e-Tutoring in the UK based Caribbean diaspora community and it made much sense to work together on such a venture.  The programme format and design was led by Daryl Best (CADSTI) and Penny Carballo-Smith (FutureThink / CADSTI) supported by Rawle Parris (BFUWI) and George Marecheau (CADSTI).   The pilot's objective is to achieve better than predicted/expected GCSE results for the participants. 
The club is unusual in that it focuses not simply on the technical aspects of the GCSE syllabus which the students will need to master in order to be successful but also looks at the vital role that parents play in supporting children through this important and stressful time.  With that in mind, one interesting feature of this initial 12-child pilot was the parent roundtable run by Penny Carballo-Smith with expert insights. This aspect draws on research that suggests that parental motivation is significantly correlated to a child's academic success.  Recognising this, the scheme will provide a parental help-line every Thursday for parents to discuss any issues which they wish to raise in order to reinforce the support for the children and their families.
The club provides one to one coaching and mentoring by club coaches with expertise in Maths and Physics.  Coaches will focus on areas of the syllabus where students are having difficulty and provide advice on revision strategy and exam tips.  This is facilitated by weekly Skype calls with mentors to work through problem areas and ensure that the plan of action is followed through to achieve the agreed goals.
On Saturday Daryl introduced the session giving personal examples of his own experiences when sitting his GCSE exams and how after a rocky start he improved his grades dramatically by intense preparation and focus in the 10 weeks prior to his examination.  Penny then spoke to parents emphasising that the attitude and support of parents is 5 times more important than the school that children attend. A lively panel discussion ensued with Daryl and Rawle and two other mentors who had recently done their GCSEs answered questions submitted by students and parents about revision, poor teaching, stress, expectations and other issues that can arise.  The panellists were open and candid about their own experiences and how they coped with the pressure.  This was then followed by two breakout sessions when parents discussed their concerns with Penny and students got the meet their mentors to get to know each other and devise individual study plans for the duration of the pilot. There will be a follow up masterclass sessions where experts go through areas of difficulty with the group.
Feedback from participants was overwhelmingly positive.  As the pilot progresses, the team plans to consider lessons learned and use this to roll the programme out to more students and in additional subject areas.